Study: kombucha flattens postprandial glycemic and insulin response
When kombucha is consumed with a high-GI meal there is a clinically significant reduction in postprandial glycemic and insulin index (GI and II) response, when compared with water, according to new research.

Researchers from the University of Sydney, Australia, conducted a randomised placebo-controlled, cross-over study which concludes that there is no statistically significant difference in postprandial GI or II when a meal is consumed with soda water or diet soft drink, but kombucha creates a clinically significant reduction even though it provides additional carbohydrates. 
The authors say this is the first controlled trial of kombucha in humans and say these findings suggest kombucha could have an important role in human health given today's high glycaemic diets.
"Long term consumption of high glycaemic diets, which induce high and recurrent surges in blood glucose and insulin levels, increase the risk of insulin resistance, dyslipidaemia, and the development of cardiovascular disease, non-insulin-dependent diabetes mellitus and certain cancers," ​they note. ​
"Conversely, epidemiological and experimental data show that low-GI diets can reduce the risk of these diseases, improve blood glucose control and insulin sensitivity in people with diabetes, reduce high blood fat levels, and can be useful for weight control."​
Kombucha for glucose control
Kombucha is a beverage made from fermented tea that contains a complex mixture of bacteria and yeast along with a cocktail of organic acids, polyphenols, ethanol, amino acids, and various vitamins and essential elements. Purported health benefits include improvements in blood glucose, cholesterol, and blood pressure readings, and enhanced immune, liver and gastrointestinal function.
Controlled animal trials​ report that kombucha reduces blood glucose levels, improves lipid profiles and supports pancreatic, renal and liver function. The mechanisms of action are unclear and are likely to occur through multiple processes that include improvements in gut microbiota ​and islet beta cell function, inhibition of inflammation and insulin resistance, and reduced damage to the intestinal barrier. 
The study
The team recruited 11 healthy adults (four males, seven females) with normal glucose tolerance and body mass index (BMI), aged between 18 and 45 years, from the Sydney University Glycemic Index Research Service participant database.
Participants maintained their usual food, exercise, and lifestyle habits throughout the study.
Each meal and beverage treatment was consumed on one occasion, with at least one day in between consecutive test sessions.
The three beverage treatments were; 330 ml of soda water as a placebo control, diet lemonade soft drink, and organic kombucha (The Good Brew Company Pty Ltd., VIC, Australia).
The kombucha, which was made from spring water, organic oolong and green tea and organic sugar, contained a mix of 200 probiotic species and a high concentration of polyphenols​.
The 330 ml of kombucha beverage contributed an additional 3 g of available carbohydrate (1.7 g of which was sugar) to the test meal, while the soda water and diet lemonade did not contain any sugar. 
The standardised meal provided 50 g available carbohydrate from microwave Jasmine rice, green peas and soy sauce.
On the morning of each session, participants arrived following a 10–12 h overnight fast. Two capillary blood samples (≥0.5 ml blood) were collected. Participants then consumed either the reference glucose solution or one of the test meal-with-beverage treatments within 12 min. Additional capillary blood samples were collected at regular intervals (15, 30, 45, 60, 90, and 120 min) after commencement of the meal. Participants were required to remain seated with minimal movement throughout each 120 min test session.
The meals consumed with either soda water or diet lemonade were both found to produce high GI values of 86 and 84, respectively. These values are consistent with the GI values of 82 for the same Jasmine rice consumed alone in a 50 g available carbohydrate test portion and 84 when tested in a 25 g available carbohydrate portion​, showing that the consumption of either of these beverages with a high-GI meal had no significant impact on postprandial glycemia.
In comparison, when the kombucha was consumed with the same portion of rice, the meal had a GI value of 68, lowering the GI rating of the meal from "high" to "medium". 
Mechanism of action
The authors say the mechanisms underlying the beneficial influence of kombucha on the postprandial glucose and insulin responses are not clear.
"The observed delayed and flattened postprandial glucose response with the kombucha beverage suggests it slows down the rate of starch digestion and absorption as previously reported with other fermented foods and vinegar.
"However, beverage acidity alone does not appear to explain the results of this study as both the kombucha (pH = 3) and the diet lemonade soft drink (pH = 3.21) had similar, relatively low pH values."
The presence of antinutrients, such as tannins in kombucha, may have also slowed the rate of carbohydrate digestion, they suggest.
"It is also possible that acid-tolerant micro-organisms in the kombucha metabolised some of the glucose in the warm environment of the stomach," ​they pose.
"It is likely that multiple mechanisms are in play and that the low pH of kombucha, the complex mix of chemical constituents including high levels of organic acids, polyphenols and tannins, and the actions of live micro-organisms micro-organisms all helped to produce the observed reductions in postprandial glucose and insulin responses." ​
Limitations
Discussing the limitations to this study, the authors note the small sample size and lack of clinical context which makes it difficult to extrapolate the results to the potential impact of long-term consumption of kombucha or to people with specific diseases.
Furthermore, the results cannot be generalised to other kombucha beverages as variation in tea bases, the bacteria and yeast species used as a starter culture, and specific fermentation conditions contribute to large differences in the chemicals, metabolites, microbes, and antioxidant activities of kombucha products.
Source: Frontiers in Nutrition​
Volume 10, 2023, https://doi.org/10.3389/fnut.2023.1036717​
"Glycemic index and insulin index after a standard carbohydrate meal consumed with live kombucha: A randomised, placebo-controlled, crossover trial"​
Authors: Atkinson, F., Cohen. M., Lau, K., and Brand-Miller, J.J. 
Free Whitepaper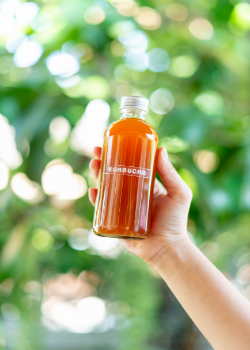 Kombucha and Probiotic Juices in the APAC Region
Boost your business success! Download our free whitepaper for expert insights on consumerengagement and influencing factors.

Download Now