Award-winning Swedish startup reveals COVID-19 highs and lows
NutraIngredients Awards Startup 2019 winner, Nutrinovate, has seen a huge surge in sales of its 'anti-virus' products and has helped to tackle the global shortage of personal protection equipment.
Speaking to NutraIngredients ahead of this year's inaugural online awards ceremony, Mikael Lindblad, CMO and co-founder of the fast-expanding four-year-young health and nutrition company Nutrinovate, says the global pandemic has affected business 'enormously' in largely positive ways.
"Sales of the day-to-day vitamin and mineral range have gone down quite a bit and distributing products across the global market has been very tough. We had an entire trailer confiscated from us in Portugal and we've had products that can't get out the airport because of import and export sanctions in different countries.​
"But our anti-virus products have gone through the roof, as people are searching for any products that they think could help give them that added element of protection against the coronavirus."​
The company's Medistus lozenges​​ are marketed as a "polyphenol-rich combination of herbal extracts and Kistosyn 200 extracts that form a mechanical barrier in the oral cavity and pharynx" said to provide a protective barrier to prevent the penetration of viruses and bacteria into the mucous membranes of the mouth. The range of lozenges are also claimed to relieve symptoms such as cough and dry cough, providing a further boost to their popularity at this time. 
The Medistus lozenges make up one of the three main legs of the business, with the other two being the Reserol Beauty range and the Nutrinovate Vitamin Films which dissolve on the tongue and were developed to overcome pill fatigue and enable better absorption of vitamins through the oral mucosa.
Lindblad and his co-founder and CEO Magnus Nilsson Vall have built on this success further and shown their entrepreneurial prowess during this global crisis by extending the business' production to include protective face shields and hand sanitisers.
"Thanks to the increased sales in the anti-virus products and the new protective equipment, we have just had our best first quarter yet and it feels good to be able to help with producing these products that are in such short supply at this time.​
"It's a weird time but it's an interesting experience and we're learning a lot from it as a business."​
Nutrinovate was chosen as the winner of the NutraIngredients Startup Award last year as the panel of judges considered the team to be 'truly innovative' and they were impressed by the clear focus, dedicated strategy and rapidly growing commercial success of the company.
Linblad says the accolade has been hugely beneficial in a number of respects, plus the entry process itself was of benefit to the business.
"The NutraIngredients Awards are highly valued from a global perspective so it's definitely worth the time and effort to enter.​
"As entrepreneurs, you tend to just keep working and pushing and you don't stop to take a step back and take stock of what you've done. ​
"The application process forced us to stop and look at what were our aims, what we have achieved, what we plan to do next - that was a great learning experience for us and that was one of the best things about applying.​
"Of course we have also been able to use the award in all our marketing materials but the best thing has been the interest the award has raised from across the global industry.​
"We attend a lot of events and have to work to secure meetings with potential partners, but after winning the award we suddenly were being contacted by a lot of companies wanting to partner with us, which is obviously a very good thing.​
"Likewise, when we've had projects where we need to work with global players, this award has been a big door opener for us."​
The awards, which have traditionally been hosted as a gala dinner in association with Vitafoods Europe, will move online this year and will see a strong shortlist of 34 finalists in 10 categories – plus our special NutraChampion award to be given out - through a virtual awards ceremony on 13 May.
The shortlisted finalists for the 10 NutraIngredients Awards categories are as follows: 
Botanical Product of the Year​
AQUILEA SUEÑO, Uriach​
CANNABIX CBD, Uriach​
Sqintea - Antipollution Skin Radiance, opTEAme​
Editors Award for Functional Food Innovation​
Bacillus subtilis PXN 21, ADM Protexin​
CholBiomeX3, Probiotix Health​
Levagen+, Gencor​
Ingredient of the Year - Healthy Ageing​
Cognivia, Nexira​
Flowens, Naturex​
NIAGEN, ChromaDex​
Ingredient of the Year – Infant Nutrition​
Lacprodan MFGM-10, Arla Foods Ingredients​
Omegavie DHA 700 algae Sensory Qualitysilver5, Polaris​
Ingredient of the Year – Sports Nutrition​
HydroCurc, Pharmako​
Levagen+, Gencor​
TENDOFORTE, Gelita​
VitaFiber IMO,  BioNeutra Global​
 Ingredient of the Year – Weight Management​
Bifidobacterium lactis BPL1, ADM​
CSAT+, Pharmactive​
Liposan Ultra, Primex​
METABOLAID, Monteloeder​
Nutrition Research Project​
Benefits of AquaCelle - enhanced absorption technology, Pharmako​
Game Changer: Plant Proteins for Athletes, Increnovo​
The effect of LactoLycopene on sperm quality in healthy men, Cambridge Nutraceuticals​
The metabolic impact of the Lab4P probiotic consortium, Cultech​
Personalised Nutrition Initiative​
METABOLAID PILOT – ACTILAC, Monteloeder​
Plant-Based Personalised Nutrition & Fitness Report,  Nutrigenomix ​
Vitmedics online nutritional assessment, Total Health and Wellbeing​
Probiotic Product of the Year​
Bio-Kult Migréa, ADM Protexin​
Floradapt BRAIN, AB-Biotics Kaneka​
Neuraxbiotic, Bened Biomedical​
Start-up Award​
GOZEN 
NORDIQ Nutrition
Nucaps Nanotechnology
Water.io
The winner of the NutraChampion award ​ – ​in association with Vitafoods Europe 2020 –​​ ​will also be announced during the ceremony.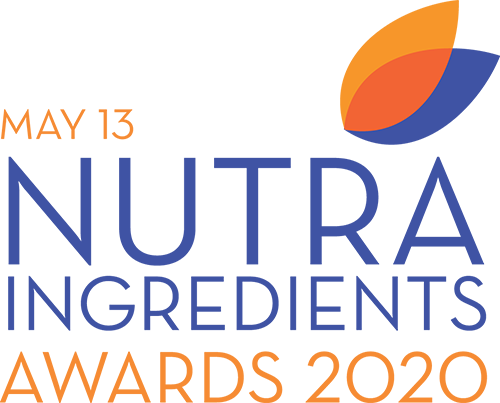 Wednesday 13th May, 2020 from 4 pm CET
Join us for the livestream on NutraIngredients.com
Prefer to be notified by email? Fill in your details below
NutraIngredients may use your contact data to keep you informed of its products and services by email. You can withdraw your marketing consent at any time by emailing qngncevinpl@jeoz.pbz. By submitting this form, you acknowledge that you have read and understood our Privacy Notice.