Synbiotic launched to reduce risk of mastitis
Danone has developed a synbiotic supplement for pregnant and lactating mothers to prevent the common, inflammation-driven issue of mastitis.
The supplement, named 'Almimama', combines the probiotic strain L. salivarius ​PS2, clinically shown to reduce incidence of mastitis, with the prebiotic fructo-oligosaccharides (FOS).
Dr. Rocío Martín, global medical and scientific affairs director at Danone Specialized Nutrition, tells NutraIngredients: "Synbiotic combinations can work synergistically in supporting a healthy microbiome which is known to be important for the health of both mother and baby."
Significance​ 
Despite the established benefits of breastfeeding​ for the health of both mother and baby, only 48% of babies under 6 months of age are exclusively breastfed​.
Mastitis, which involves inflammation of the breast tissue, affects up to 1 in 4 breastfeeding mothers​. It causes flu-like symptoms and breast pain, as well as skin rashes, fever, and breast engorgement.
It has been reported​ as one of the leading causes of an early and unwanted end to breastfeeding in the first 26 weeks postpartum.
Mastitis can be caused by​ unbalanced breast microbiota, yet\ common practice for treating mastitis​ is through the use of antibiotics which can alter the maternal gut microbiota, leading to susceptibility to other issues. 
Previous research​ has shown probiotic supplementation during late pregnancy and in the early stages of breastfeeding reduces the incidence of mastitis.
For that reason, it is recommended that the supplement is taken in the third trimester of pregnancy and during breastfeeding.
Martín states: "We know mothers are most likely to develop mastitis in the first weeks and months of life of the baby. There is evidence that probiotic supplementation during late pregnancy may impact breast milk composition.
"Hence supporting a healthy microbiome of the mother in late pregnancy could increase the likelihood of success in preventing the overgrowth of potential pathogens which occurs when a mother develops mastitis." 
The study ​
The study,​ involving Danone's Nutricia researchers,​ concluded the probiotic strain Lactobacillus salivarius ​PS2 can help prevent mastitis.
As part of the study, 328 healthy pregnant women from four different countries received either a daily probiotic supplement with L. salivarius​ PS2 or a placebo from week 35 of pregnancy until week 12 postpartum. 
The results showed that mothers who received probiotic supplementation were 59% less likely to develop mastitis compared to those who received a placebo.
Martín states: "Many women say during pregnancy they used to imagine what it would be like to give birth, but they never, or rarely, consider not being able to breastfeed. They are given little information in this regard and may not know that complications occur in up to one-third of cases. 
"We understand this can be distressing and, with this solution, we hope to support mothers in extending their breastfeeding journey as long as possible."
Consumer communication​ 
The supplement is provided in packs of 30 powdered sachets, designed to be taken once a day. 
The neutral-tasting powder is dissolvable in water, and each pack features a QR code linking to online content about breastfeeding and its benefits.
On the importance of the QR code, Martin states: "We know parents value additional information about infant feeding. Including the QR code on the Almimama pack was a way for us to provide parents quick and easy access to information about breastfeeding including tips for the mother and their support system that can contribute to a mom's breastfeeding experience."
 ​
Journal: Microorganisms
 https://doi.org/10.3390/microorganisms9091933​
"Ligilactobacillus salivarius​ PS2 Supplementation during Pregnancy and Lactation Prevents Mastitis: A Randomised Controlled Trial"
Authors: Esther Jiménez, Susana Manzano, Dietmar Schlembach, Krzysztof Arciszewski, Rocio Martin, Kaouther Ben Amor, Mieke Roelofs, Jan Knol, Juan Miguel Rodríguez, Michael Abou-Dakn  and Premium Study Group. 
Blog Post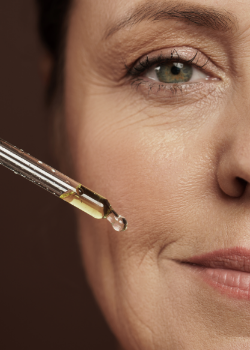 Seeing is believing: Supporting the skin microbiome
Delve into the power of the skin microbiome and the rise of probiotic and postbiotic cosmetics for healthier skin.

Read Now