Scientific basis for the development of functional food for mental wellbeing
There is good evidence to support the development of biotic supplements and functional foods to aid mental health via the gut-brain axis, a new review has concluded.
The paper, by authors from China, Hong Kong, and Singapore, concludes that there is a body of scientific evidence with the potential to pave the way for the development of functional foods containing pro-, pre-, post- and synbiotics aimed at preventing and treating mental disorders.
But they note it is crucial to accurately identify the changes of featured microbes that occur in each individual with mental disorders.
Mental health and the gut microbiota​
Mental health is a significant concern worldwide​, with disorders like anxiety, depression, bipolar disorder, autism spectrum disorder, schizophrenia, and eating disorders affecting approximately 970 million individuals​.
Recent studies​ have highlighted the important role of the gut microbiota and its metabolites in overall health.
Dysbiosis of gut microbiota has been associated with various chronic metabolic diseases, and its impact on mental health has gained attention.
The gut microbiota can influence mental health through the regulation of neurological and immunological activities​, production of neurotransmitters, and metabolite production. 
It has been previously reported​ that the gut microbiota could influence the brain and mental health via the vagus nerve, through microbial regulation of neuro-immune signalling, microbiota-mediated tryptophan metabolism, microbial control of neuroendocrine function, and microbial production of neuroactive compounds.
Additionally, previous studies​ have found that the gut microbiota can produce and regulate neurotransmitters, such as serotonin, dopamine, and glutamate, which play important roles in neurological and immunological activities in the brain.
One study​ found that gut bacteria, Bacteroides uniformis​, Roseburia inulinivorans​, Eubacterium rectale​, and Faecalibacterium prausnitzii​ have been found to positively affect mental health by producing short-chain fatty acids (SCFAs) and regulating amino acid, taurine, and cortisol metabolic pathways.
And other studies​ have shown that some probiotics and natural products exerted vital roles in the management of mental disorders via modulating gut microbiota. 
The authors suggest that based on previous findings, targeting the gut microbiota could be a potential approach for preventing and treating mental disorders.
The review​
The narrative review included a comprehensive search of Web of Science Core Collection and PubMed databases, gathering relevant literature published within the past five years. 
The composition and abundance of gut microbiota, especially Firmicutes​, and Bacteroidetes​, were found to be associated with several mental disorders, such as anxiety, depression, bipolar disorder, ASD, and schizophrenia.
One study​ found that the abundance of Prevotella​ was increased, while the Firmicutes​/Bacteroidetes​ ratio and the abundance of Faecalibacterium​ spp. were significantly reduced in individuals with social exclusion. 
Moreover, a study of 198 Spanish individuals​ found that patients with anxiety had lower Simpson's diversity, a measure of diversity that takes into account the number and abundance of species present. 
The authors report that the conclusions of epidemiological, experimental, and clinical studies suggest that probiotics (particularly Lactobacillus​ and Bifidobacterium​), prebiotics (e.g., dietary fibre, GOS, B-GOS, and alpha-lactalbumin), synbiotics, and postbiotics (e.g., SCFAs), can all prevent and manage the mental disorders by modulating intestinal microbiota
For instance, a study showed​ that Lactobacillus murine​ (L. murine​) and Lactobacillus reuteri ​(L. reuteri)​ could increase GABA content in the hippocampus and alleviate depression-like behaviours in Dcf1 knockout mice.
Another study, ​based on 156 adults with subclinical symptoms of mental disorders, showed that the mixture of L. reuteri​ NK33 and Bifidobacterium adolescentis​ NK98 improved mental health and sleep.
The authors note: "These studies​ indicated that prebiotics and postbiotics could also be potential for the prevention and management of mental disorders, such as anxiety, depression, ASD, and schizophrenia."
Additionally, a double-blind RCT​ found that the galacto-oligosaccharides (GOS) prebiotic could alleviate anxiety and upregulate the abundance of Bifidobacterium​ in the 4-week intervention of 64 late adolescent females.
Another study​ showed that the administration of a supplement containing probiotics, prebiotics, plant extracts, and nutrients exerted positive influences on mental health by increasing the abundance of Lactobacillus​ and Bifidobacterium.​
Additionally, the authors note that synbiotics could also alleviate the side effects caused by antipsychotics, as it was found​ that the synbiotics attenuated olanzapine-induced weight gain and insulin resistance in schizophrenia patients.
The authors conclude: "This could be helpful for people to make informed choices regarding natural dietary products for the prevention and management of mental disorders, and it may also promote the development of natural dietary products by the industry as pharmaceuticals and functional foods to maintain mental health."
They do however note: "Due to the potentially significant differences in the composition of the gut microbiome among individuals, it is crucial to accurately identify the changes of featured microbes that occur in each individual with mental disorders, which is important for personalised treatment of mental disorders through targeting gut microbiota."
Journal: Nutrients 
https://www.mdpi.com/2072-6643/15/14/3258​
"The Role of Gut Microbiota in Anxiety, Depression, and Other Mental Disorders as Well as the Protective Effects of Dietary Components."
Authors: Ruo-Gu Xiong, Jiahui Li, Jin Cheng, Dan-Dan Zhou, Si-Xia Wu, Si-Yu Huang, Adila Saimaiti, Zhi-Jun Yang, Ren-You Gan, and Hua-Bin Li.
Free Whitepaper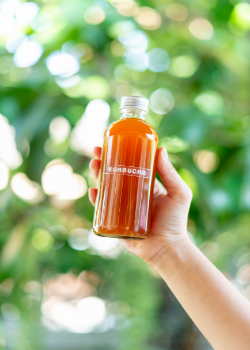 Kombucha and Probiotic Juices in the APAC Region
Boost your business success! Download our free whitepaper for expert insights on consumerengagement and influencing factors.

Download Now